Fatigue Durability Development
Durability and reliability are becoming hot issues for automobile manufacturers and consumers. Developing durable vehicles, improving product reliability, avoiding the risk of vehicle recall, and building reliable and durable brand images are the engineering challenges faced by automobile manufacturers.
With excellent experts from home and abroad with rich experience in vehicle development, the Fatigue Durability Engineering Team under TS (Suzhou) Automobile Technologies Co., Ltd, provides vehicle manufacturers and component suppliers with complete development services, including user research and related application, fatigue development target definition and load hypothesis, road test and road spectrum acquisition, data analysis and processing, load decomposition and fatigue prediction based on CAE simulation, vehicle virtual platform and virtual test, bench test program formulation and load spectrum preparation, reliability test program planning and product durability test implementation and verification, and helps customers solve various engineering issues in the development of durability and reliability, build an advanced engineering process and system and develop steady and reliable vehicles. In addition, it also provides the platform upgradation services for existing models and system components, including reliability and durability matching optimization of suspension system, steering system, brake system and transmission system and lightweight optimization of driving system and body structure.
In order to ensure the fatigue durability of the vehicle to meet the design requirements, the development of vehicle fatigue durability engineering usually involves three phases, target definition, target decomposition and implementation, and verification test.
1) Target definition of durability development
Objective:
- vehicle fatigue development target of reasonable definition
- By linking the vehicle fatigue development targets with users' use, the load assumption and benchmark for structural durability and reliability development are formulated.
- Based on load assumption and development targets, the equivalent road test is designed.
- Through the vehicle road test for load acquisition and identification, input is provided for the structure design and CAE simulation
2) Decomposition and realization of durability target
Objective:
- The vehicle fatigue development target is decomposed into subsystems and component level.
- The whole vehicle load is decomposed into the part level, as the load input of the component structure design and CAE analysis.
- Fatigue virtual verification and prediction of components are conducted and then structural optimization.
3) Durability verification test of vehicle, subsystems and components
Objective:
- Effective test validation of components, subsystems, and vehicle is conducted to increase confidence before the product is launched.
- Verification test plans for durability and reliability of component, subsystem and vehicle are formulated and implemented.
- Before the product design scheme is frozen and the product launch, the issues of structural durability and reliability are discovered and overcome.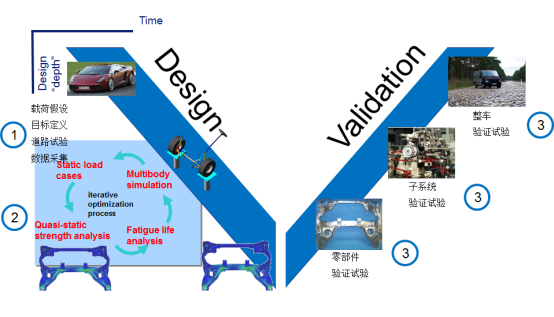 | | |
| --- | --- |
| Load assumption | Vehicle verification test |
| Target definition | Subsystem verification test |
| Road test | Component verification test |
| Data acquisition | |
Based on rich engineering experience, unique fatigue durability solutions and a strong engineering team, TS Engineering provides vehicle enterprises with complete and comprehensive fatigue durability engineering development services, including
l Definitions of development objectives and load assumption
w analysis and determination of vehicle durability and reliability development objectives
w Formulation and implementation of user research and user road test programs
w user relevance analysis of development objectives and load assumptions
w formulation of driving planning table for equivalent road test
l Road load data acquisition
w formulation of data acquisition program(sensor/data acquisition)
w road test and road spectrum acquisition in testing ground
w data analysis and processing
w equivalent simulation condition formulation
l CAE analysis of structural strength and fatigue
w establishment and verification of multi-body dynamic model for vehicle load analysis
w load prediction based on spectrum iteration, true - load and other technologies
w component load decomposition
w structural strength and fatigue analysis based on finite element method
w verification and optimization of structural design scheme
l Durability and reliability test validation
w design of component DV bench test scheme
w Design of vehicle bench simulation test ( wheel coupling, shaft coupling )
w formulation of vehicle road verification test plan
w fatigue test acceleration
w design of reliability verification test scheme

Acquisition and analysis of actual load conditions

Vehicle durability requirements and objectives definition

Test drive plan

Virtual simulation and optimization

Physical test verification

Acquisition of road load data

Test of actual user working conditions

Long- term field monitoring

Expert experience of wheel load test(WFTs)

Expert experience of strain test

Unique user correlation techniques

Load assumption analysis design

Test drive plan

Fatigue life prediction based on finite element method

Finite element analysis

Prediction and decomposition of system level load

Virtual bench

Hybrid road technology for load prediction

True-Load technology for load prediction

Formulation and optimization of test plan

Component bench test

Subsystem bench test

Vehicle bench and road test

Acceleration test

Reliability verification test
Fatigue durability development