Aerodynamic Performance Analysis
Purpose
Through the aerodynamic performance analysis , the flow pattern around vehicle is better understood. The following objectives will be achieved:
1)Reduction of fuel consumption (Drag analysis)
2)Improvement of driving stability (Lift analysis)
Driving stability Example: Passing a sharp bend, the car is more secure under the positive pitch moment.
Understeering : Lift Balance CLF > CLR Oversteering : Lift Balance CLF < CLR
Positive Pitch Moment : Stable Negative Pitch Moment : Unstable
Assessment
After the aerodynamic performance evaluation of the local flow field, a targeted optimal design is carried out. For example: An air pressure diversion optimization of the front wheel is necessary because of the pressure increment caused by air collision in the front tire.

Flow around the front wheels
Parametric study
Through the analysis of the design parameters of the body shape and aerodynamic components , improve the aerodynamic performance of the car. For example:
Influence of ground clearance on drag coefficient
| | | |
| --- | --- | --- |
| | Base model | Ground clearance (10mm downward) |
| Shape | | |
| Parameter analysis | | |
| Optimization parameter | - | - |
| Cd | Confidential | 0.002↓ |
Influence of engine room undercover shape on drag coefficient
Base model

Shape of engine room undercover

Undercover length (Improvement 1)

Undercover length (Improvement 2)

Shape

Flow pattern

Cd

Confidential

0.009↓

0.012↓
Optimization
a) Chassis optimization
Through the chassis optimization, drag coefficient is decreased by 0.032, and coolant temperature by 4℃. Aerodynamic performance and engine room cooling performance are improved.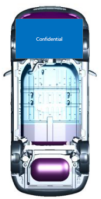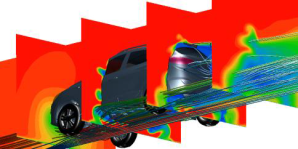 Figure Optimization model and flow chart
b)Bumper layout optimization
The location of the bumper is parameterized by overset function, and the distribution of the optimal solution is calculated. The best optimized solution has a minimum CD and a maximum negative CL, i.e the solid red dot in the figure.
Bumper Layout
Bumper Layout optimization results
Vehicle passing stability analysis
Test mode
Sedan(80KPH) / Bus(120KPH). An analysis of the car driving stability when a bus is overtaking it is made.
Analysis result
The maximum side force occurs in the 1.5s after the bus overtaking it.

Lift coefficient
Yaw moment coefficient
Experiences
1) Drag coefficient analysis of various vehicles
2) Analysis of lift balance and driving stability
3)Dust cover, wheel and chassis layout design
4)Design optimization of rear vortex generator
5)Development of vehicle aerodynamic performance and cooling performance
6)Design optimization of roof visor for commercial vehicle
7)Development of integrated platform for fuel cell vehicle
8)Shape design of SUVs on aerodynamic performance optimization
9)Development of virtual wind tunnel for aerodynamic analysis
Aerodynamic Performance Analysis