Air Conditioning System
CFD simulation analysis of air conditioning system contains: simulation analysis of natural and forced ventilation, carbon dioxide distribution in passenger compartment, defrosting and deicing, thermal comfort in passenger compartment.
Natural ventilation
Our services include:
1) assessment of natural ventilation performance.
2) shape design of front cover plate.
3) thermal comfort improvement design.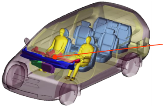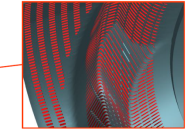 Cowl shape design


Design of ventilation grille position and angle based on occupant cabin thermal comfort
Forced ventilation
The simulation analysis is carried out by using the detailed model containing passenger compartment, HVAC system and dummies. The number of computational meshes is about 15000000.
Computational model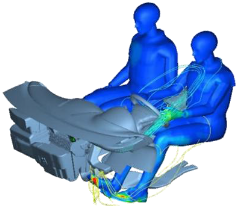 Front flow field in passenger cabin
Carbon dioxide distribution
Carbon dioxide distribution in passenger compartment
Defrosting and deicing
Process
1) CAD modeling
2) Mesh generation and Setting of B.C..
3) Steady calculation and Flow analysis(on wind-shield)
4) Transient calculation and deicing and defrosting analysis.

CAE analysis process of defrosting and deicing
Example
Compared with the original model, the flow rate of the left and right air outlets of the optimized one is more uniform and the flow field distribution on the windshield is more uniform.
Computational model
The flow rate of the left and right outlets

original model Optimization model
Flow field distribution near the windshield
Thermal comfort
Evaluate temperature & humidity change of human body and surrounding environment by coupling thermal fluid and dummies.
Input data:
Dummy (divided into 17 segments)
Sex
Age
Body fat rate
Metabolic rate
Clothing condition
Air exposure
CFD B.C.:
Air temp.
Vapor flux
Skin temp.
Vapor pressure

JOS model and occupant compartment model
Results to be obtained:
Skin temperature
Skin moisture rate
Thermal flux between body and air
Humidity from a body
Distribution of thermal comfort in passenger compartment
Experiences
1)Cool-down and warm-up analysis (PMV assessment)
2)Defrosting, deicing, demisting analysis
3)Analysis of natural and forced ventilation
4)Noise analysis of ventilation system
5)Thermal comfort with solar radiation taken into account
6)Development of fan impeller and scroll
7)Optimization of flow rate distribution of air conditioner duct in commercial vehicle
8)Process development for analysis of air ventilation system